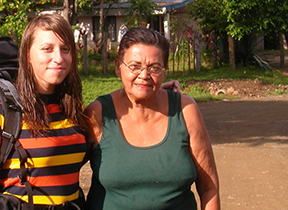 Homestay
You will placed with a Costa Rican family (one student or married couple per family) in the town of Santa Ana. The hosts will provide the participant with a private room, breakfast, dinner and laundry service. Lunch will be served to on the school's campus during weekdays.

Alternate Lodging Santa Ana
Two alternatives to lodging in a homestay are available in Santa Ana. The first is "La Casona", an attractive lodge with six bedrooms, each with a private bathroom. It also boasts a large dining room, two lounges, a reading/study area and kitchen. The second is "La Casita", a smaller lodge made up of two family suites, each with its own bathroom. There is also a shared kitchen and lounge. Both lodges have balconies with spectacular views overlooking the Santa Ana Valley.