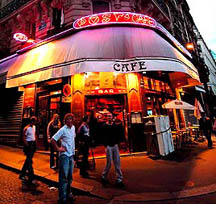 The most tangible and immediate pleasures of Paris are to be found in its street life and along the lively banks of the River Seine. Few cities can compete with the cafés, bars and restaurants – modern and trendy, local and traditional, humble and pretentious – that line every street and boulevard. And the city's compactness makes it possible to experience the individual feel of the different quarters.

You can move easily, even on foot, from the calm, almost small-town atmosphere of Montmartre and parts of the Latin Quarter to the busy commercial centres of the Bourse and Opéra or to the aristocratic mansions of the Marais. An imposing backdrop is provided by the monumental architecture of the Arc de Triomphe, the Louvre, the Eiffel Tower, the Hôtel de Ville, the bridges and the institutions of the state.

As for entertainment, the city's strong points are in film and music. Paris is a real cinema capital, and the best Parisian music encompasses jazz, avant-garde, salsa and, currently, Europe's most vibrant African music scene.