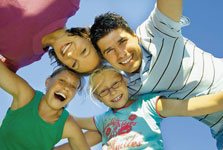 Homestays

Student are placed with a variety of carefully selected families, and we do our best to accommodate all special requests. Many students find that living with local French families helps to improve language skills and understanding and appreciation of the culture. Getting to school, which is easy by Metro or bus, takes between 15 and 60 minutes. Homestay lodging is in a single room, and includes breakfast daily.

They are used to welcoming foreign students and, therefore, know how to help them familiarize themselves with the French way of life and French culture. Single or double rooms, bed & breakfast (B&B) or half-board (breakfast and evening meal).
The half-board option is ideal for practicing French outside lesson time.