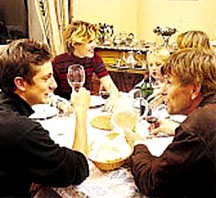 Homestays - One of the most important factors in the students comfort and ability to learn is the accommodations. This is why the accommodations officer rigorously selects each of their host families and spends much time matching students to the right families. For this reason, we asks that each student provides as much information as possible regarding their personality, likes and dislikes.

Host families can vary from couples with or without children, single people, roommates, single-parents, etc. We have host families of all ages and social backgrounds, but they all have one thing in common: their hospitality and friendliness.

Host families live all over the city, some in the city center and others in nearby suburbs. The distances from the school to the families can vary from 10 minutes by foot to 25 minutes by public transport.

Generally, there are one or two students of different nationalities per family, except during the summer period when we cannot guarantee one student per family or students of different mother tongues.

Homestay accommodation includes a private room, breakfast and dinner on weekdays and all meals on weekends. For those students enrolled in the Homestudy Tutor Program and the Teen Program in Biarritz, three meals daily are provided.

Accommodation is from Sunday prior to the starting date of the course until the Saturday after the end of the course for all adult programs. For the Teen Program, arrivals are on Sunday and departures are on Saturday.