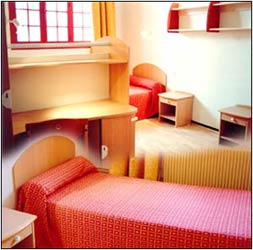 Student Residence

We offer on-campus accommodation in the student residence. The student residence has 110 rooms with 180 beds in all. Each room is equipped with a washbasin. Showers and toilets are shared and available on each floor. Sheets, blankets and other bedding are provided at the residence. Students should bring their own towels. Rooms are cleaned on a daily basis.

Meals are served in the campus dining room. Main dishes and desserts are served by wait staff and a salad-bar is open during the meal. On weekends a brunch replaces breakfast and lunch. 85% of students choose to live on campus as the most practical solution.

A shared double room with 2 meals daily (breakfast and lunch) is included in the cost, while single rooms and/or 3 meals daily are available on request and at additional cost. Triple rooms can be provided as well upon request.