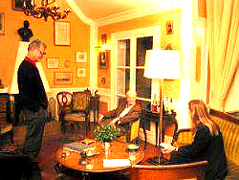 Homestays - Homestays offer students the chance to speak French and take part in family life. Students stay in or near the city center in Nice. When several foreign students are housed with the same family, they all have different mother tongues. Homestays include breakfast daily, with 2 meals daily available at additional cost.

Hotel Residences in Nice - Several aparthotel residence options are available at different times of year:
Aparthotel single room studio with kitchen & bathroom. No meals are available.

Student residence single room with kitchenette & bathroom. No meals are available.

All aparthotel and student residence options are available on request and at additional cost.