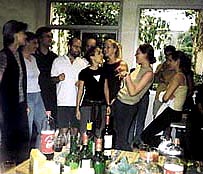 Cultural & Social Activities Each week cultural activities are offered to students at no additional charge. The activities give students a chance to experience the cultural and tourist aspects of the city. A 90 minute lecture on French civilization is offered after classes, and focuses on events which have marked the history of Nice, along with various aspects of contemporary French life, literature or art. In addition to the civilization course, a walk or visit to a museum or a monument, is organized each week, and are accompanied by a teacher.

Evenings activities are various and dynamic depending on student preferences. Dinner at restaurants specializing in Nicoise cuisine, a wine tasting evening with a local specialist, a latin dance evening, and musical concerts and theatrical performances.

Local Visits and Outings Accompanied visits and outings are organized as well. Visits include:
Museums

Monuments

Typical areas
Traditional food creators of wine, chocolate, bread, cheese, mustard, (old sea markets, fragrance makers, Provence Vineyards, etc.) of Nice, and are accompanied by a teacher. These activites are organized each week.
Students can also buy tickets for operas, theatres, concerts, boat excursions, fitness club, and movie library at very special prices.